100 years ago, there was a strong bond between Japanese people and African Americans.
Following the conclusion of World War I, the Paris Peace Conference was held in January, 1919. The conference was held to establish the League of Nations whose purpose was to prevent repeating the calamity of the war that had just ended.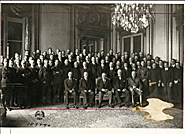 The Japanese delegates who participated in this conference proposed the fundamental principal of racial equality to be incorporated as a clause in The Covenant of the League of Nations. Therefore, this sparked keen interest among Black Americans who watched this with the greatest concern.
Japan's victory over Russia in the Russo-Japanese War resulted in Japan's entry into the western powers and saw them fight together with the Allied Powers during the First World War.
After World War I, Japan as the first colored race to be a member of the Allied Powers boldly presented a significant proposal of no further racial discrimination throughout the world in opposition to the established norms of the Western order of that day.
On the way to Paris, the Japanese plenipotentiaries stopped over in New York where Monroe Trotter, the chief editor of The Boston Guardian, and four Black activists handed them a proposal which included their plea to remove prejudice and racial discrimination from every nation on earth.
The Associated Negro Press claimed that Black Americans were "manifesting the greatest respect in the momentous fight Japan is making before the Peace Conference on 'Race Discrimination'."
This Racial Equality bill was rejected by the chairman of the conference, The President of The United States, Woodrow Wilson. Our heart grieves for those colored people who were abused unjustly, and we stand for them today.
There was a Japanese samurai who invested his assets to support the civil rights movement.
This is virtually a forgotten story...▶▶▶